Elle Fanning Reigns Over 'The Great' In A Deliciously Debauched Second Season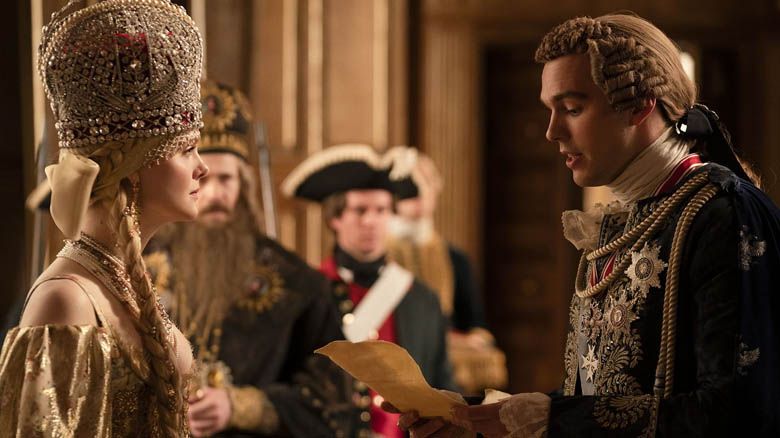 Anytime a show pulls off as delightfully bawdy, indulgently violent, dizzyingly ridiculous a first season as Hulu's The Great did, one naturally worries: Will the sequel be as good? Will more Pomeranians be tossed off balconies? Will more huzzahs be shouted? Will Nicholas Hoult once again unironically utter the wrong pronunciation of "touche"?
The answer to all is, thankfully, yes. (Well, except for the Pomeranians. All dogs are safe this time around.)
Season two of creator Tony McNamara's not-entirely-accurate historical comedy picks up four months after a now heavily pregnant Catherine's (Elle Fanning) attempted coup. Her husband Peter (Nicholas Hoult) has fortified a wing of the palace where chosen members of his court snack on fennel seed mousse and examine each other's genitals while she plots to smoke him out with Molotov cocktails and ruthless wit.
The stand-off doesn't last long — though it does take an exciting turn when Peter is forced to flee the palace and dine on river rats while under siege — but those hoping that Catherine, now firmly in power with both the military and church on her side, might finally relieve the former monarch of his head will be disappointed. Her vision of a new Russia is one built on ideals and progress, not bloodshed. Of course, that opens the door for Peter and his closest allies to launch their own stealthier version of political warfare from inside the castle walls, a tension-filled tug-of-war that seriously cramps Catherine's plans to remake the country in her more liberal image.