Benedict Cumberbatch seems wrong for 'The Power of the Dog,' but proves wickedly right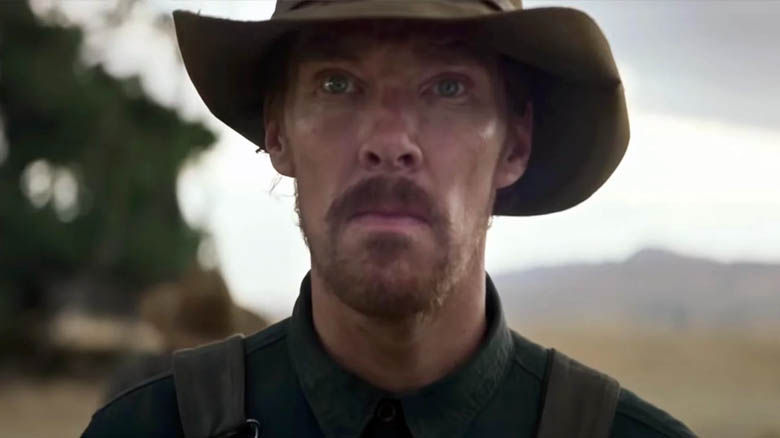 When you think "rugged American cowboy," the image that pops to mind probably isn't of Benedict Cumberbatch. Though the English actor has played a wide array of roles — from Doctor Strange to Alan Turing and Sherlock Holmes — there's frequently a common thread of posh intellectualism therein. When Cumberbatch strides into Jane Campion's new Western, The Power of the Dog, wearing buffalo-skin chaps and a battered cowboy hat, it's jarring. His stern expression and snarling American West accent can't hide those aristocratic cheekbones or the intelligent glimmer in his eye. Yet as this fascinating film unfolds, it becomes clear why Cumberbatch's casting was a stroke of brilliance from Campion. 
Netflix Watch Guide | The Power of the Dog
The acclaimed writer/director adapts The Power of the Dog from Thomas Savage's 1967 novel. Cumberbatch stars as Phil Burbank, a surly rancher who shares a house, business, and life with his timid brother George (Jesse Plemons), who he has nicknamed "Fatso." As you might guess, Phil is casual in his cruelty, which is plainly displayed when a cattle drive through 1925 Montana brings the brothers into the inn of fragile "suicide widow" Rose Gordon (Kirsten Dunst). There, the snarking cowpoke is quick to mock her son Peter (Kodi Smith-McPhee) for perceived softness, spitting slurs and harshly mimicking of the boy's lisp. With a simple insert shot, Campion's use of visual language poetically exhibits the threat Phil poses to this civilized setting. The petals of a delicate paper flower, which Peter has made for decoration, are invaded by Phil's rough, filthy fingers. It's one of many examples of a collision of decorum and dominance, femininity and masculinity, peace and war. It's a conflict unfurling slowly but unstoppably.
Part of the joy of watching The Power of the Dog for the first time is the uncertainty of where it might go. Once George marries Rose, it's clear Phil's behavior will grow more menacing toward mother and son. But Campion is a master of slow-burn tension that feeds on character development. So, your focus may not be as fixated on what comes next as much as the present, where a single silent gesture of kindness can change a family, and a sly suggestion can cause carnage. The first watch feels like a rapturous trek through rugged but gorgeous terrain, where there's so much to take in that you might not realize where you're headed. Once you know the destination though, that second watch is magic. All of a sudden, you can see all the breadcrumbs that Campion had subtly dropped along the way. They were always there, buried among the beauty but laced with poison.