Ted Lasso
Ted Lasso, an American football coach, moves to England when he's hired to manage a soccer team—despite having no experience. With cynical players and a doubtful town, will he get them to see the Ted Lasso Way?
Comedy, Drama
Smells Like Mean Spirit
The newly promoted AFC Richmond face mockery as pundits predict they'll finish dead last this season.
(I Don't Want to Go to) Chelsea
News of a top player looking to move to London sends the English clubs into a frenzy. Richmond play their first game back in the Premier League.
4-5-1
Richmond adjust to an exciting change, but Jamie has reservations. Ted learns there's something new going on back in Kansas as well.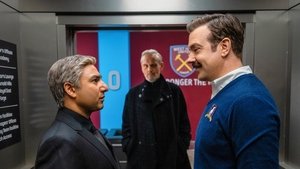 Big Week
Every Disadvantage Has Its Advantage