The Dropout gazes into the abyss of Elizabeth Holmes' unblinking eyes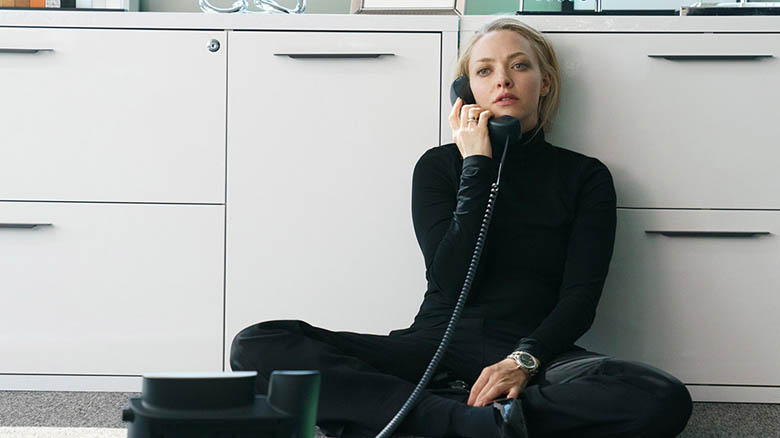 It was a good idea, after all. Affordable, non-invasive, at-home blood tests offering real-time analysis? That's a good idea, especially in a country where healthcare is often expensive and inaccessible. It came from Elizabeth Holmes, a Stanford dropout whose good idea ballooned into a company with a $9 billion valuation. In 2015, the truth about Holmes' technology—that it didn't work— was revealed. Books, podcasts, and documentaries emerged, each plumbing the depths of the founder's deception. This past January, she was convicted of four counts of fraud. She faces up to 20 years in prison.
Hulu Watch Guide | The Dropout
But Theranos? It's still a good idea. In a Silicon Valley where crypto now reigns, that means something. It makes Theranos one of the more complex and nuanced tales of Silicon Valley deception. Theranos isn't the Juicero. It could've helped people. And Holmes, a female CEO in a sea of tech bros, was easy to root for, even with that curiously deep voice and unnerving, unblinking stare.
Amanda Seyfried stars as the eccentric Holmes in Hulu's The Dropout, which devotes its first three episodes to Holmes' evolution into the icy, turtlenecked wunderkind who famously urged herself to "show no excitement," "speak rarely," and "call bullshit immediately." Seyfried finds shades of that future intensity in her portrayal of a teenage Holmes who resists the frivolities of her peers in her efforts to be taken seriously at Stanford and approaches ugly expressions of emotion—her father sobbing, for instance—with a mix of curiosity and pity. When a family friend asks what she wants to pursue, she replies matter-of-factly: "I want to be a billionaire." Seyfried's delivery is loaded: to someone who worships tech giants like Steve Jobs, a word like "billionaire" represents not wealth but a rarified social standing. Millionaires are simply rich; billionaires change the world.