Ms. Marvel starts on a bright, fun, authentic note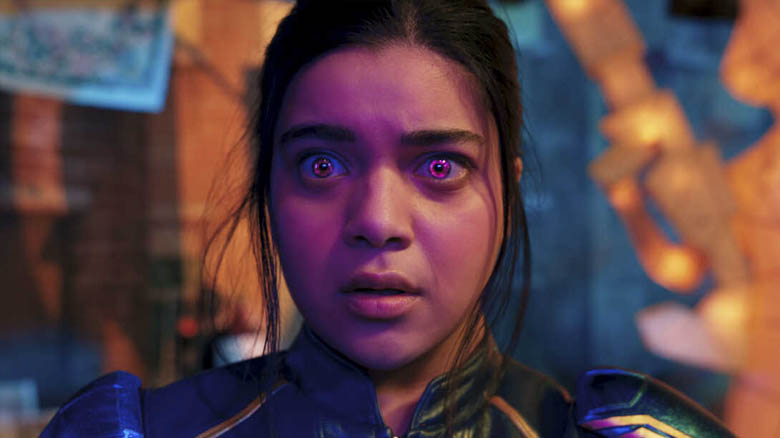 "I wish that you would just focus on you. Your grades, your family, your story. I mean, who do you want to be in this world, hain? Do you want to be good like we raised you to be? Or do you want to be some cosmic-head-in-the-clouds person?" Those words from Muneeba Khan (Zenobia Shroff), directed at her daughter Kamala (Iman Vellani), come at the close of the first episode of Ms. Marvel and tidily sum up the premise of the series: Who is it that Kamala Khan actually wants to be?
Disney+ Watch Guide | Ms Marvel
But let's rewind for a second and talk a little about Kamala. She lives in Jersey City and is totally obsessed with superheroes, running her own YouTube channel, Sloth Baby Productions, about Captain Marvel, Thor, and the like. The show opens with Kamala's narration, as cartoon superheroes fly across the screen. With this intro, directors Adil El Arbi and Bilall Fallah set a fun, irreverent tone, with cartoon elements, animation, comic-book panels, and text that superimposes itself onto buildings. (It's a really rich show visually and sonically so far, with a bright jewel-toned color palette and choice soundtrack.)
Apart from her superhero obsession, here's what's going on in Kamala's life: Her mom Muneeba, dad Yusuf, and older brother Aamir are prepping for the latter's wedding, but the only thing Kamala wants to prep for is AvengerCon and its Captain Marvel cosplay contest. Kamala's got an ace look, thanks in part to the aid of best friend Bruno (Matt Lintz), but it's missing that final flourish. Could that be a cuff Kamala spots in a box her grandmother has sent over from Pakistan? Definitely, since Muneeba confiscates it right away and is acting very sus about the whole thing.