The light-hearted office comedy of Moonbase 8 actually works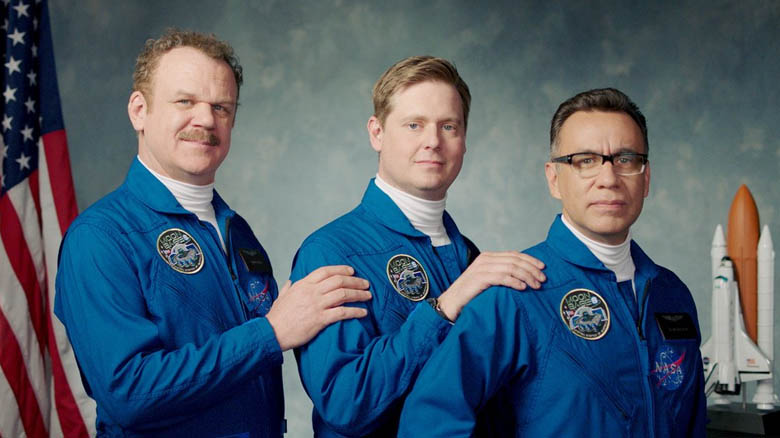 The original premise for Moonbase 8, a new comedy from John C. Reilly, Tim Heidecker, Fred Armisen, and Jonathan Krisel, was one rooted in the isolation horror of The Thing—a group of people stuck in a remote area, facing the unknown together. Like the creature in John Carpenter's classic sci-fi film, that idea quickly took on a new form, eventually turning into a winning office comedy that laps other recent entrants in the "work-space" genre.
Moonbase 8 stars Reilly, Heidecker, and Armisen as a trio of would-be astronauts training at one of a number of NASA lunar camps in the U.S. desert. Each member of the group primarily goes by a call name—Robert "Cap" Caputo (Reilly), Dr. Michael "Skip" Henai (Armisen), and Professor Scott "Rook" Sloan (Heidecker)—save for Travis Kelce, the Kansas City Chiefs tight end who throws his weight around like they're already on the moon. They all come to NASA from different walks of life: Cap, a pilot for scenic helicopter tours, claims to be a military man, while Skip is following in his astronaut father's footsteps, and Rook mostly wants to spread "the Gospel of Jesus Christ out into the universe." Kelce's presence is tantamount to stunt casting (by NASA, not Showtime), but even he quickly finds himself out of his depth.
The six-episode season begins on the group's 200th day of training, which is also their 200th day in relative isolation from the rest of the world. They still get regular supply drops from NASA, as well as snail mail and video calls with family, tokens of normalcy that generate friction throughout the season. The group has established their own equilibrium, dividing up professional and domestic labor, all with the goal of joining the 12 people before them who've been on the moon—or so they think. Moonbase 8 has a few surprises in store for its aspiring astronauts and for viewers, but, like Other Space, its driving force is the comedy inherent in cramped living situations and watching a few well-meaning doofuses work together on what appear to be high school-level science experiments.