'And Just Like That' Review: 'Sex and the City' Wants Its Relevance Back in HBO Max Sequel Series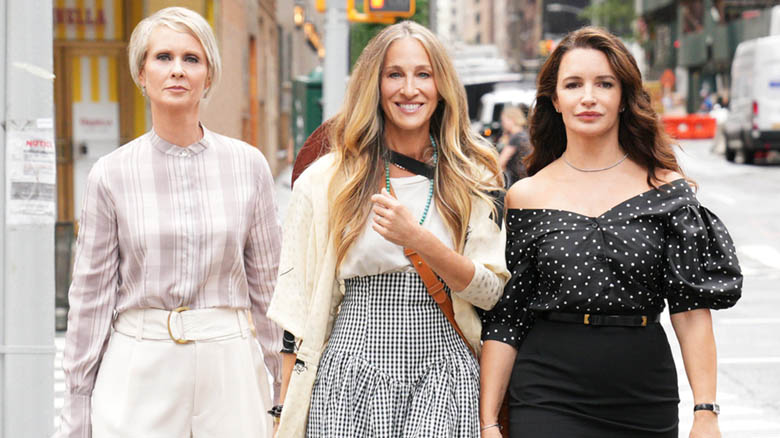 "And Just Like That…" is quite a thing to behold.
HBO Max Watch Guide | And Just Like That
The "Sex and the City" revival — under a new name because (officially) it's now an HBO Max original series, and (unofficially) because the classic foursome is now a threesome, sans Kim Cattrall's Samantha Jones — may be the 2021 series that breaks us or brings us together. It's not good, per se, but it offers plenty to talk about and has moments, big and small, that resonate. The core premise helps justify a return to "SATC," which is a relief after the forced, frivolous nature of "Sex and the City 2." But whether or not Carrie (Sarah Jessica Parker), Miranda (Cynthia Nixon), and Charlotte (Kristin Davis) can generate enough insight, style, and comedy to prop up the episodes' extended runtimes (44 minutes each, save for a slightly shorter Episode 4) remains to be seen. Fans of the original series will feel the familiar pull, drawing you back into the vortex of high fashion, budding romance, and devout friendships, while non-fans will be given ample fuel from this very well-off, very self-absorbed trio to power their hate-watching.
But one thing is crystal clear. "And Just Like That…" is desperate to make "Sex and the City" relevant again. Carrie is part of a podcast titled "X, Y, and Me" that has its own "woke moment" button. Miranda remembers going to the airport in 2017 to help immigrants affected by the Muslim ban. Charlotte spends an entire episode trying to find Black guests for her dinner party so her one Black friend won't feel isolated. "How to Be an Antiracist" is name-checked, white savior complexes are flagged, and a non-binary stand-up comedian gets five full minutes on-stage to explain why TV shows should make space for more than just one character who identifies outside the gender binary. (Presumably, "And Just All That…" is complying with her advice because the crowd she's performing for consists of non-binary characters, even if the only other speakers are Carrie and Charlotte.)